SHIFT 2020 turns into a fully virtual festival
SHIFT Business Webstival 2020 takes place at a virtual 3D event platform, Virbela, on 27-28 October. Due to the increasingly alarming corona situation in the region, the board and the team have decided to turn the entire event production virtual. 
Moving from the combination of on-site and virtual elements to virtual-only was, in the end, an easy decision to take: SHIFT has been working with the virtual production since the beginning of the pandemic outbreak, and we are excited to bring the whole festival audience in. The platform does not serve as a substitute for the on-site festival but rather provides a new angle to the event industry: a way of coming together regardless of your ability or willingness to travel.
What to expect?
SHIFT 2020 transforms online interaction into a memorable virtual networking experience and social engagement. Virbela is specifically designed to promote social interaction and collaboration among participants. If you have ever been to SHIFT, this is very much the same but without the physical proximity.
Users interact at the festival as avatars. Instead of video chat tiles that remind everyone that they are in separate places, avatars in the 3D venue feel together in the same environment. There's a real sense of space that helps you interact naturally and effectively, either via voice or text chat. We recommend strolling through the expo hall and taking part in the program provided by SHIFT partners. Or you can use the separate matchmaking app to fill your calendar with 1-on-1 meetings.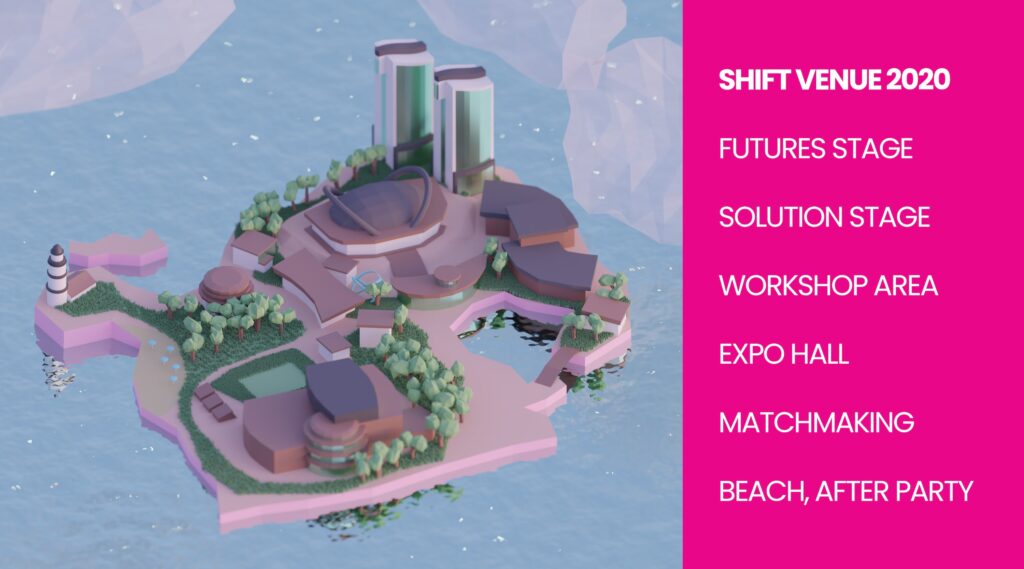 Intelligent business
The two stages with keynote presentations and roundtable discussions take place in the virtual venue just as cited in the program. Having this kind of a group of Finnish and international experts coming together for two days feels like a dream at times of restricted traveling. 
The program is built to stimulate your thinking and to invite you to do intelligent business development. To name a few speakers you should we aware of, check author Gunter Pauli, Alexandra Davidsson, and Donnie Lygonis for sustainability, Nando Malmelin, Joana Lenkova, and Risto E.J. Penttilä for future foresight, Rita McGrath, Elina Moisio, and Ami Rubinstein for innovation and impact, and Jacqueline Cramer, Guy Standing, and Andrey Shigaev for academic research.
SHIFT challenges you to do intelligent business for the futures. We are more than happy to do this virtually with you – join the show!
---
SHIFT Business Webstival 2020, 27-28 October 2020
The virtual venue is open to all on-site and virtual ticket holders. If you have an on-site ticket, it's also valid to SHIFT Business Festival 2021. We'll contact you with detailed information about moving your ticket for 2021 after closing the virtual venue gates at the end of October.
If you have any questions, please contact info@theshift.fi.