SHIFT safety – the preparations for COVID-19 safe festival
Although we are living through challenging times event-wise, SHIFT Business Festival continues to facilitate growth and innovation and thus opens the season for business events in August. Our main principle is to make SHIFT as safe as possible, hence we've undertaken stacks of actions regarding safety, hygiene, and the welfare of our attendees.
Clean & Safe Turku
We are proud to be a part of the Clean & Safe Turku program – originating from an international operating model, aiming to protect customers as well as staff from COVID-19 and to make the actions taken for health security visible.
Read more about Clean and Safe program Turku here.
Check!
The health and safety of you and other attendees is of paramount importance. Check! is the sign of safe events. Tapahtumateollisuus ry, the Finnish event industry association, has compiled a checklist that we have ticked off to organise SHIFT Business Festival 2021 safely. 
To name the COVID-19-related undertakings, SHIFT:
complies with the regulations, instructions, and recommendations issued by the authorities.

communicates health safety instructions through event channels and emails as well as on-site before, during, and after the event.

prevents overcrowding and provides

a

sufficient

amount of

space for attendees.

improves hand hygiene by providing handwashing facilities and placing hand sanitiser holders in the event area.

ensures the sufficiency of hand gloves, soap, and hand towels.

makes sure the cleaning of premises and surfaces is carried out every 2-4 hours.

recommends the usage of face masks.

guides partners, speakers, and other participating groups to follow the health security plans.

prevents the spread of infections in working spaces and among attendees.

instructs you to download Koronavilkku – a contact tracing app produced by the Finnish Institute for Health and Welfare to help you find out whether you may have been exposed to COVID-19.
in case of an illness or the slightest symptoms,

 

kindly asks you to attend the virtual parts of the festival only

.
Other parties' actions:
Hotel Kakola cares for the food and beverage spots, hotel rooms and the health security of the toilets inside.

Finnish Red Cross,

SPR takes care of First Aid point health security and customers' security.
X-Sec deals with the health security of its own points and customers' security.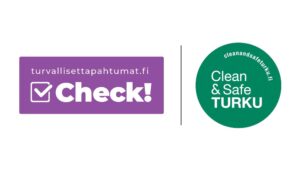 See you on 25-26 August! Purchase your ticket in time on our Ticket Store.